A brief examination of Microsoft Outlook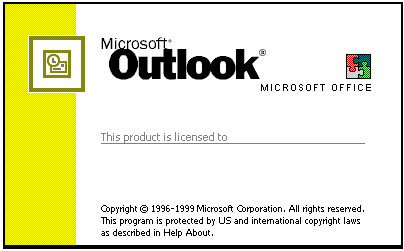 Microsoft Outlook is an email client, which is sold as a stand alone application or packaged with Microsoft Office. Historically it came about as an evolved merge of MS Exchange and Schedule+. The first time that Outlook was introduced was in 1997. Simply called Outlook 97, it was packaged with Office 97 and Exchange 5.5.

The principle responsibility of Outlook was to combine the tasks of mailing and calendar appointments. People sometimes confuse Outlook with it's similar named counterpart, Outlook Express. They are infact totally different programs. While Outlook Express only aims to deal with email tasks, Outlook could be best classified as a full 'Personal information management' (PIM) application.

The last release of Outlook was version 2007. It's questionable whether we will see another version, now that Microsoft appear to be focused upon their Vista MS Mail client. So far we have had six versions of Outlook, which are named after the year of their release, 97, 98, 2000, 2002, 2003 and 2007. The only version which was not packaged with MS Office was Outlook 98. For the simple reason that there was not a version of MS Office created in that year.

Advantages of Outlook

- Outlook integrates perfectly with MS Exchange, SharePoint, Active Directory and organizational tools such as PDAs, mobile phones and Blackberry devices.

- Provides more options than free email clients like Outlook Express. Flagging emails from specific users ( your boss) with different colours, for importance, is one such example.

- Combines emailing and organizational functions. Emails sent to multiple persons can include functions such as voting, to decide on meeting times etc.

- Version 2007 has fixed many of the previous Outlook security flaws. Such as allowing executable attachments (ActiveX), and imbedded html and images.

- Version 2007 has an improved junk mail filter.

- Few other email programs offer such an integrated selection of functions in one program.
---
Tutorials
Sending mail

Simple process, just click the new message button and fill in the address and message details.
Sending to multiple people

In the recipients address box, you can type more than one email address, just separate the addresses with a semi-colon ';'.

Sending to multiple people, carbon copy (Cc)
Fill the email addresses in the Cc box. This means the recipients can see all the users which have been sent the email.
Sending to multiple people, blind carbon copy (Bcc)
This time you fill in the Bcc box with the email addresses. This means those receiving the email will not know the other recipients.
---
Reading mail

The Inbox is the place where read and unread emails are sent.
To read a new email simple click on the inbox logo, which will load a list of your messages, as show below.

Double click the message you wish to read, such as 'Outlook 2003 Team, Welcome to Outlook 2003'.
---
Flagging mail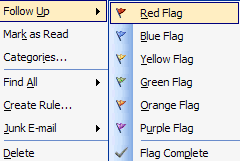 (Can vary from version to version)
Select the email you which to flag.
Select the 'Actions' menu, then 'Follow up', and choose the colour of the flag you wish to designate.
You can also select a reason for the flag, a due date and a reminder date.
---
Backup mail
(Can vary from version to version, for some versions this will only work if 'Internet Mail Only' option is applied)
All your personal data is stored in a PST folder and files. The location of this folder has always be problematic to access. Although it's slightly easier in 2007.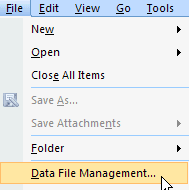 First click on the 'File' menu, then browse down to 'Data File Management'. Another way is to click the 'Tools' menu and browse down to 'Account Settings'.

You should now have access to 'Data Files' window. Click on the data file you want to backup, then click the 'Open Folder' icon above it. You should now have access to your 'PST' folder, save the data file to whatever backup data source you have.
---
Restore your mail, contacts and data.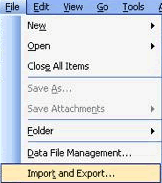 As you will have already guessed from the previous tutorial, you will restore your mail, contacts and data from your PST folder.
Select the 'File' menu, and the browse down to the 'Import and Export' option.
A menu will then loadup with a selection of files to import. Select the 'Personal Folder File' (PST) and press 'Next'. Press 'Next' and 'Finish'.
---
References, resources